In early December we held our 15th Developer Summit in Porto Alegre, Brazil with developers from:
The BigBlueButton project holds two developer summits each year (and we're entering our 8th year!). These summits enable us to coordinate with the larger BigBlueButton community the planning and development of new features over the coming months. And, while we all make heavy use BigBlueButton internally, these summits are a great way to hang with friends and enjoy some really good food together (Brazil has lots of good food).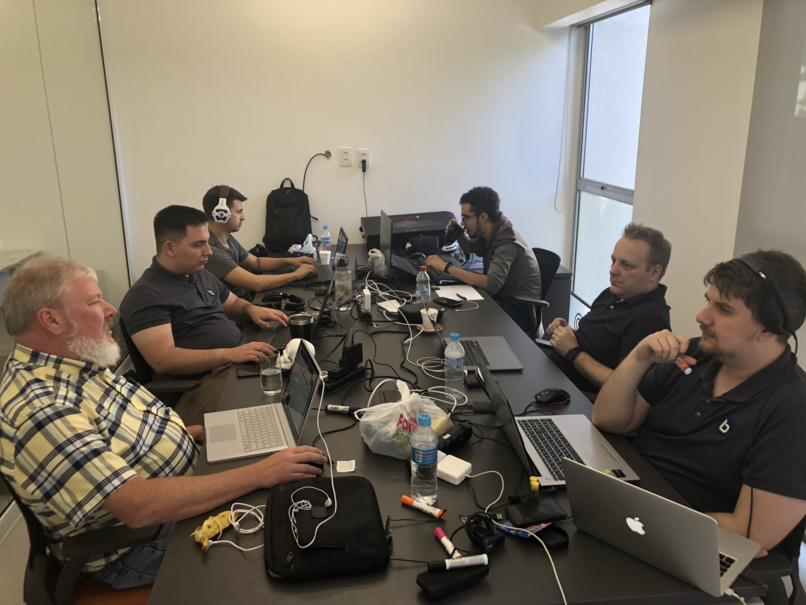 Looking back, 2019 has been a busy year. Our main focus was the the transition to a pure HTML5 client (no flash, no downloads), which we released on May 22, 2019. Many companies involved in the BigBlueButton project saw a significant increase in usage after the roll out of the HTML5 client on their servers. We saw this interest as increased traffic on our community forums.
The latest version of BigBlueButton is 2.2. At the developer summit in December, we worked on planning of features BigBlueButton 2.3, which includes:
We also worked on updating the player for recordings to be based on React (also WIP), improving the ability for BigBlueButton client to give feedback when network bandwidth is low, supporting larger session sizes of 150 and 200 users, and improving the overall user interface based on feedback from the community.
With the transition to HTML5 behind us, you can look forward to a steady stream of new capabilities that continue to improve on BigBlueButton's integration with existing learning management systems, improvements to Greenlight (our stand-alone ruby on rails front-end), and improvements to the product itself to enable instructors to engage students within online classes to promote effective learning.
Thanks to Mconf for their their excellent hosting of this developer summit!