Engage Your Online Students
BigBlueButton is a web conferencing system
designed for online learning.
Features that teachers will enjoy
Looking for a professional solution for teaching remote students online?  BigBlueButton provides real-time sharing of audio, video, slides, chat, and desktop.  Students are engaged through sharing of emoji icons, polling, and presenter control.
Check out features for teachers →
Deep LMS interaction
Many of the leading learning management systems (LMS) vendors have created a deep integration with BigBlueButton.  BigBlueButton has deep integrations with Canvas, Schoology, Jenzabar, and Moodle. BigBlueButton is also LTI 1.0 compliant.
Check out features for schools →
" Our instructors love BigBlueButton. With our previous web-conferencing solution our users encountered many technical and usability problems that caused a lot of support effort on our part. With BigBlueButton, the support issues are almost non-existent. We are constantly impressed with the level of quality in this open source project and it works without any prior knowledge. "
Want a system that gives you the ability to customize right to the code? That's us.
Open Source
BigBlueButton backed by a world-wide community of developers (and commercial companies) that care about making the best web conferencing system for online learning.
APIs
BigBlueButton's simple application programming interface (API) makes it easy to integrate with your own products.
A community of engaged developers
The BigBlueButton developer community has seen great success over the years with a growing mailing list of over 2,500 members and a Github repository that has been forked by other developers over 3,200 times.

Learn more about our community →
Get the latest information about the BigBlueButton project.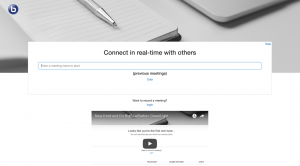 We pleased to announce a new front-end for BigBlueButton called "GreenLight".   GreenLight is a super simple front-end that providesa a minimalistic web-based interface to let
Read More →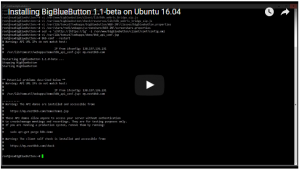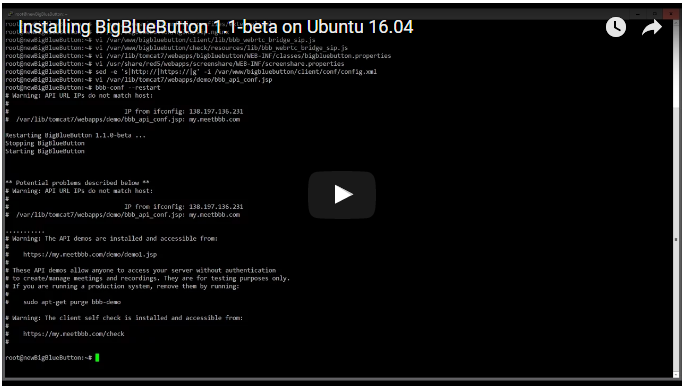 To help anyone installing BigBlueButton for the first time, we've created an installation video that walks you through the install steps at BigBlueButton 1.1-beta installation
Read More →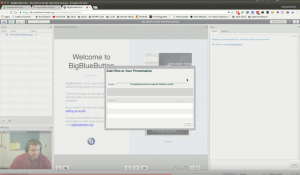 Interested in how schools are using open source to provide integrated solutions to their students. Here's a video from Chris Kenniburg showing how Dearborn Public
Read More →
Interested in trying BigBlueButton
Check out the tutorial videos and then try out BigBlueButton on our demo server.